For many people, the prospect of choosing an engagement ring seems daunting, especially if they don't know where to start. With the wide variety of styles, themes, cuts, stones, carats and settings, it can seem like maze of information that makes no sense. Understanding the basics, and adding it to your knowledge of the person you love will help you find the perfect ring that will not only say "I Love You", but will let them know that you see them and truly know who they are.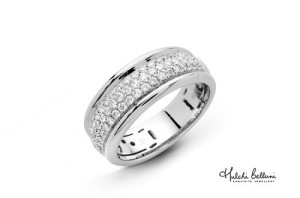 Before you delve into learning all the terminology, it's a good idea to have a solid notion of what your loved one likes, their personal tastes, as well as causes that are dear to their hearts. You might wonder why that matters, but, the fact is that an engagement ring does more than say 'will you marry me', it can be an example of just how well you know the person you are proposing to. If your girl is big in human rights, buying them a diamond that might be a blood diamond would be a big mistake, while opting for a possibly less costly, but more appropriate non-diamond ring from a developed country would be more to her liking.
There was a time when an engagement ring was traditionally a solitaire diamond, but that is no longer the case. Rings come in all shapes and sizes, with non-diamond and theme engagement rings being some of the most requested. If you and your love share a passion, choosing an engagement ring, or ring set, that commemorates that hobby or joint interest might be a great option.

The person's personality, and personal style should also play a role when selecting an engagement ring, and while some women might prefer a simpler, sleeker style, there are some that would much prefer a vintage style engagement ring, with an encrusted setting. If their profession requires them work with their hands, or nor wear jewelry, take that into consideration as well, and you might want to purchase a necklace for them to wear the ring on at work to avoid losing it.
One way to get some ideas is to pay attention to the type of rings they point out in jewelry stores or online. Keep a look out for the cut and styles they like, so you can find something similar to surprise them with. This will show that you care and listened to them, paying attention to their personal taste, a good sign that you really do love them.
Now, once you have decided on a general look and feel for the engagement ring, you'll need to settle on the details and learn some of the terminology. This will help make shopping for the ring much less confusing, and will help ensure you get what you are looking for.
The cut, refers to the shape of the stone, and the angles. There are many different cuts available, with the most common being cushion and princess cut. The next most important thing is the size of the stone, this measurement is called carats.
The setting refers to the ring that holds the central stone, and there are also a wide variety of styles to choose from. If you don't think the person you hope to marry would like a diamond, consider a ruby, sapphire, or pearl engagement ring. These can be just as valuable, or more so, and are a beautiful unique alternative to diamonds.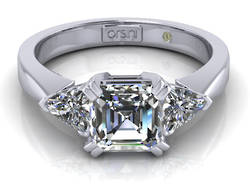 Perhaps the biggest problem is actually finding a place to start. This is especially daunting for those people who do not regularly buy items of jewellery. There are plenty of Auckland diamond engagement rings to choose from. You can go to chain stores if you want a simple choice but the issue with these places is that any ring you buy from them will be available in hundreds or even thousands. For many people this is not a problem, having the same ring as lots of other women. However some people prefer something a bit more unusual or exclusive, try a jewellery designer in Auckland such as Orsini Fine Jewellery.
Choosing an engagement ring is a big decision, but, with a little research and fore thought you can be sure to find you love the perfect ring and get the 'Yes' you deserve!