Auckland Passive House Builder – The Benefits Of A Passive Home
When it comes to energy savings, passive houses can produce around 90 percent compared to conventional buildings. This is due to airtight construction, and designs to minimise energy usage. In short, people can save on energy by living in a passive house. Here an Auckland passive house builder, talks about some of the benefits of going passive with your home.
What Is A Passive House
Generally speaking, passive homes use less than 1.5 litres of heating oil annually, per square metre of living space. This is much better than other types of low energy buildings. In warmer climates, passive homes produce similar savings because they are also cooler and therefore need less air conditioning to make them comfortable.
A good example of this is passive homes being built to use energy sources from within the home including using energy from body heat from the inhabitants, sunlight entering the home or excess heat from appliances. This means there is less reliance on heating and air conditioning for cooling.
A passive home also does a good job of making the living environment more comfortable for its residents. One way it does this is via insulation to retain internal heat whether it is generated by a fuel source or human heat. Not only that, but passive homes are typically have an airtight built, which prevents the loss of cold or hot air.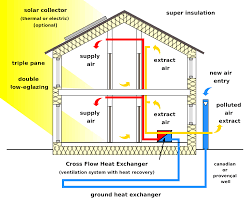 Another aspect to passive homes is reducing thermal bridges. These are situations where hot air can be cooled and lose heat to the outside or form condensation. These are typically windows or joints between walls. Good design reduces the number and extent of thermal bridges.
Passive houses typically feature double glazed windows or triple glazed windows. Special types of doors are also installed. Such features help generate energy from the sun. Not only that, but specific types of ventilation is used within a passive home, which allows for moisture recovery and heat recovery.
It doesn't matter if it's apartments or a single-family home, achieving a passive building is possible. By making a building passive, indoor temperatures will be more regulated throughout the year. This means you'll save on energy and enjoy a better internal environment and a more comfortable living space.
Besides that, air-tight construction results in more comfort for those who occupy the building. Even if the weather is extreme, you will remain comfortable inside the building. If that wasn't impressive enough, the ventilation system will provide you with high quality air.
During the winter and summer months, homes will remain comfortable, which is in part to the quality of insulation built inside of them. Passive homes don't have a design that causes thermal bridging, and weak spots that allow for cold to enter or allow heat to escape don't exist. Furthermore, the build-up of moisture will be prevented.
If all that wasn't impressive enough, it's worth pointing out that passive homes are affordable. There's no need to install expensive heating and/or cooling systems. As a result, you can enjoy energy savings of around 90 percent.
Passive homes don't use up a lot of energy and on an annual basis, their energy consumption is limited by around 15kWh per square meter. The homes are air-tight and are generally built with more sustainable building materials giving a second eco-friendly impact. In turn, these buildings offer a high level of comfort and can play a role in maintain a healthy environment.
The bottom line is passive homes don't use much energy yet they produce a warm, comfortable living space. If you want to reap the benefits of having a passive home look an Auckland passive home builder to help you achieve your aim.
Cain Built is an Auckland passive home builder. Click here for more details.